Water Wisdom
Weir River Watershed's Monthly Blog
June 2021 Water Wisdom
Know Your Watershed!

The South Shore. Coho. Gunrock. 02043. Red Sox Nation. Whether it's your town, neighborhood, or even your favorite baseball team, there are a myriad of ways to define your home. Did you know that you also have a home watershed? Everyone does! A watershed is simply the name given to identify the land area in which all the fallen rain and snow drains (or "sheds") into a common body of water. It includes underground water, called the aquifer, which contributes to streams and rivers.
Here's an illustration of a watershed.


For many residents of Hingham, Hull, Cohasset, Rockland, Weymouth, and Norwell, the Weir River Watershed is the one we call home. Comprising 23.4 square miles, the Weir River Watershed is a sub-basin of the Boston Harbor Watershed. It starts at Accord Pond, and supplies water to approximately 38,000 people in Hingham and Hull, and to parts of Cohasset. It provides a habitat for area wildlife. Additionally, it provides recreational opportunities for residents such as boating, swimming, and fishing. The watershed's land is used for nature walks, hikes, biking, cross-country skiing, snow shoeing, birding, hunting, and shell fishing. In short, the watershed is a defining factor of why we love living here on the South Shore. Here's a map of the Weir River Watershed.

Because watersheds support all of life within them, it's important to be aware how our everyday choices impact the watershed's vitality. An important measure of the health of the watershed is water flow, which you can check in real time on our website at www.weirriver.org. Traditionally, water use during summer months for lawn watering creates dangerously low waterflow levels in our watershed each year. In 2020, the Weir River actually ran dry from July to October. As this summer gets officially under way, we are already in a mild drought. Please consider not watering your lawn this year. You can get a yard sign to educate your neighbors about why you're letting the grass go dormant at https://www.nsrwa.org/get-watersmart/sign-our-water-for-people-not-lawns-pledge/.

How we build on land also affects water levels. When land is paved or covered by impervious surfaces like buildings, precipitation is unable to soak into the ground and instead flows directly into the rivers and ocean. This decreases the amount of groundwater, resulting in less flow in the river. Along the way, the water runoff collects surface pollutants including salt, sand, and oil from roads and driveways, and pet waste and chemicals from our lawns, and deposits them straight into the rivers and ocean. Strategically placed rain gardens, such as the one planted outside the Hingham Public Library to capture roof runoff, channel this water back into the ground. To avoid damaging runoff, try to minimize unnecessary hardscape and your use of salt, chemicals, and fertilizers, and consider whether you could create a rain garden to encourage water absorption.

Every Weir River Watershed resident from Derby Street to the 02045 is responsible for maintaining the health of this fundamental resource. Find more information at the Weir River Watershed Association website. We are a volunteer, non-profit organization dedicated to promoting awareness and stewardship of the watershed. We provide educational programs to local schools, organize clean up events, and help monitor and report conditions on the river. You're welcome to join as a member or as a participant at our next event as we work to keep our home watershed a welcoming place for generations to come.
May 2021 Water Wisdom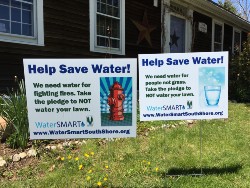 TAKE THE PLEDGE TO NOT WATER YOUR LAWN
Photo courtesy of North and South Rivers Watershed Association
"In nature, nothing exists alone." – Rachel Carson
Area nurseries need police details to direct traffic, and no one can get the landscaping companies to call back—it's spring on the South Shore. Visions of showcase-worthy street views dance in our heads as we fill wagons with plants at the garden center. The backbreaking summer yardwork that inevitably follows is far from our minds, and post-Memorial Day water restrictions usually aren't factored in, but considering the environmental impacts of our purchases during these heady days will go a long way towards our future enjoyment of our yards.
Ecological landscaping recognizes that how we design, plant, and maintain our yards has effects that reach far beyond our property lines. Kristen Nicholson, a co-owner of Norwell's new Blue Stem Natives plant nursery, thinks the pandemic may have spiked people's interest in the practice. "Everyone was spending more time at home, and they noticed that they didn't see the butterflies and lightening bugs in their back yards the way they used to. People realized that they have the opportunity to make a difference in their own space." She, along with partners Britt Drews and Jasmin Callahan, have created a nursery where native plants are accessible to the everyday gardener. "Native plants are the ones that have grown here for thousands of years. Insects and birds have grown with the plants for generations—the most famous pairing might be monarchs and milkweeds, but there are thousands of other species that depend on the other." In addition to supporting biodiversity, native plants require far less ongoing care. "We call them 'waterwise plants' because they have adapted to our sandy and dry soil." She notes that any new plants will require watering to get started, but once native plants' root systems are established, "they can handle some pretty prolonged droughts."
The local water supply has never needed your help more. In nature, a watershed refers to the area of land where all the streams, runoff, and rainfall drain to the same outlet. Locally, Hingham, Hull, and parts of Cohasset rely on the Weir River Watershed as their water source. Massachusetts Department of Environmental Protection recommends a maximum water use of 65 gallons per person per day—but water use often doubles in the summer months due to lawn irrigation. The Town of Hingham alone experienced a 14.35% growth in population since 2010. The higher demand for water combined with hotter temperatures has resulted in water levels dropping precipitously in recent summers. The Weir River, whose flow is indicative of the health of the watershed, was dry for three months during the summer of 2020, and is already running low this year. The long-term sustainability of our Weir River Watershed depends in large part on our landscaping choices.
Perhaps it's time to reimagine our yards. "Don't think 'lawn', call it a 'meadow,'" suggests Éva Borsody Das, a Weir River Watershed Association board member. If you're not ready to say goodbye to your lawn mower quite yet, you might consider taking one or more of the steps below.
Go Drug-Free! If you have a turf lawn, do not add pesticides or fertilizer. They run off into the watershed, contaminating our drinking water, and can cause rapid algae growth in surface water.
Take the Pledge! Take a pledge to NOT water your lawn this year. During times of extreme heat or drought, grass will turn brown but it is likely just dormant, and will green up when cooler temperatures return. Watering just one inch of water per acre consumes more water than required to fill a 16'x32' swimming pool. It's important to follow watering restrictions even if you have a private well, as they draw from the same groundwater source as municipal wells. Sign up to take the pledge to not water your lawn and receive a free yard sign to educate your neighbors.
Mow High! Keep your grass about 3 inches long, and leave your grass clippings on the lawn. Leave the clover, which will supply valuable nitrogen to your yard (plus, it stays green even during droughts).
Go Native! Plant native species, which are naturally adapted to the soil type and precipitation rates of their surroundings. If a non-native species is selected, make sure it is not invasive!
By working with natural environmental constraints, our yards and gardens can conserve natural resources, strengthen biodiversity, reduce water consumption and soil erosion, and can save you time and money. One study found that the costs of installing and maintaining an ecological landscape plan may be as low as 1/5 as those associated with conventional plantings and practices over a 10-year period. The benefits of lightening bugs and butterflies frequenting your yard, and a healthy, lasting water supply? Priceless. Seriously priceless.
APRIL 2021 Water Wisdom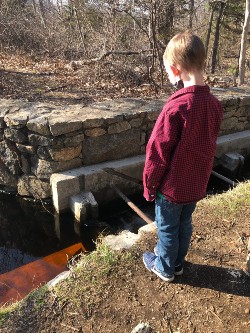 SPRING BRINGS HOPE OF HERRING SIGHTINGS IN HINGHAM
Late March sun brightened the trailhead at Hingham's Foundry Pond, but Anna Corbett, 11, was looking for another sign of spring. "We're going to search for herring!" Guided by the sound of rushing water, Anna found the Foundry Pond dam and the fish ladder alongside it. But herring were nowhere to be seen. She was probably too early, says Samantha Woods, a coastal and marine
scientist and founding member of the Weir River Watershed Association (WRWA). "April vacation has typically been a good week to see herring around here, after it warms up, and especially after rains."
Anadromous fish, herring are born in freshwater, swim to the ocean as juveniles, then return to the water where they were born to spawn in the spring. They make the roundtrip journey annually throughout their reproductive lives. In Hingham, the herring swim from the estuary into the Weir River, up to Foundry Pond, then farther up the Weir River to spawn in Triphammer Pond. Fish ladders provide graduated detours around two dams that would otherwise make their journey impossible. The WRWA sponsors an annual Weir River herring count in conjunction with the North and South Rivers Association.
Herring were once so abundant that they gave the Weir River its current name. A "weir" is a type of fish trap used by Native Americans and, later, by the colonists. In 1637, a herring fishing company was permitted to build a weir on the river then called "Lyford's Liking." It has been known as the Weir River ever since. In neighboring towns, fish ladders teem with herring and draw crowds, but numbers are now scarce in the Weir River. In the 2019 count, observers did not count any herring at all. In 2020, with
the help of volunteers from the South Shore FlyCasters, multiple sightings of schools of herring were seen at the ladder, and some were seen passing, providing evidence that there is still of small herring population using the river.
There are many reasons for the declining numbers, from the steep steps of the Foundry Pond fish ladder to bycatch fishing in the Atlantic. Most concerning is increased consumer demand for water, especially when coupled with drought conditions. Accord Pond, where the Weir River originates, and multiple wells along the Weir River, supplies water to all of Hingham, Hull, and parts of Cohasset. Last year, downstream sections of the Weir River went dry from late July to October. When water is too low, the juvenile fish get trapped in Triphammer Pond and Foundry Pond. Additionally, trees and shrubs
usually found at the river's edge grow in the waterbed itself due to the flow alterations created by dams and water withdrawals, creating obstacles in the herrings' upstream journey.
The shrinking herring population is cause for concern. Herring are a keystone species, relied upon by other fish and birds as a food source. Additionally, "the herring are a harbinger of the condition of the watershed," says Ms. Woods. "The watershed is a finite resource. The lack of herring indicates that things aren't going as well as they should." She also notes that, despite the spring season, Hingham is already in a Level 2 drought.
Many volunteers are working to support the herring. The South Shore Flycasters, a fishing organization and members of the watershed association, cleared the riverbed of alder trees and other vegetation. The WRWA is planning a public clean-up day on May 1, from 9 AM – noon; information can be found on the WRWA Facebook page. And Hingham High School science students are officially counting herring for the first time this year. HPS Science Department Director Kathryn Roberts says that the students have not yet observed any herring on the fish ladder, but that participating is valuable. "Zero data is still important data to collect." If you would like to help with this year's herring count, please sign up for training and information here.