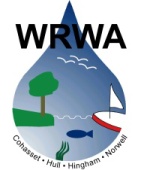 Humans and Herring:
Share the River, Share the Water
The Town of Hingham assumed control over the Weir River Water System this summer during drought conditions that left the Weir River dry for extended periods of time. The water system that provides drinking water for Hingham, Hull, and North Cohasset is also critical for maintaining fragile fish spawning grounds.
The Weir River Watershed Association hosted its annual meeting on Thursday, December 9, 7:00 p.m. - 8:00 pm to provide information about the river's natural resources and how they are factoring into the Town of Hingham's management of the water system. Speakers for the evening included Hingham Town Selectwoman and Weir River Water Commissioner Mary Powers and Weir River Water Superintendent, Russ Tierney who updated us on the status of the water supply and discussed opportunities for restoring streamflow to the river. We also heard from Tom Bell and Daniel Wells two volunteers and avid fishermen who led an intensive survey looking for river herring this spring in the Weir River to determine if there was any population remaining in our river. Want to know more? Watch the recorded presentation at our Facebook page.
The new water company will be named after its source...
the Weir River!
Our campaign to name the water company after it's source was successful! Read about the new name here.
By raising people's awareness of the source of their water we hope it will help to increase stewardship for the resource that sustains our water -
the Weir River.