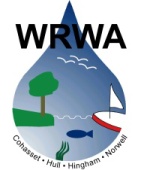 Get to Know Your Water
Zoom Meeting
Thursday November 18, 2021 at 7 pm
Water - we take it for granted until it doesn't come out of the faucet or we can't flush our toilets. And yet many of us are unaware of where our water comes from, the treatment and distribution system required to bring it to us, and where it goes when we flush it! On Thursday, November 18, 2021, at 7 pm you have an opportunity to get to know your water better during the annual meeting of the Weir River Watershed Association!
It has been a full year now since the water supply has been under the new ownership of the town of Hingham. Russell Tierney, the Weir River Water Supply Superintendent will provide us an update on accomplishments to date and future plans for the water system. The other side of the water equation will also be represented by Rick Mattila, Hull Sewer Commissioner who will provide an overview of Hull's wastewater system, recent studies to provide regional wastewater services to North Scituate, and Cohasset, and climate resiliency projects underway.
Please register to get a zoom link for the Get to Know Your Water Zoom presentation on November 18, 2021, 7 - 8:15 pm
The new water company will be named after its source...
the Weir River!
Our campaign to name the water company after it's source was successful! Read about the new name here.
By raising people's awareness of the source of their water we hope it will help to increase stewardship for the resource that sustains our water -
the Weir River.