8 am - 5 pm
Plimoth Plantion, 133 Warren Ave, Plmouth
Join fellow concerned citizens, water professionals, conservationists and decision-makers to learn, share and network
at this one-day conference
Water is critical to all of us, requiring prudent management, realistic planning and effective regulation to protect our drinking water, waterways, recreational areas and aquatic wildlife. Increasing population and development pressures in southeastern Massachusetts threaten our waterways, drinking water, recreational areas and aquatic wildlife. It is imperative that we work now to plan for a future with clean and plentiful water, restored rivers with abundant wildlife, and safe and efficient ways to treat wastewater and stormwater.
Join conservation professionals, legislators, decision-makers, concerned residents, town employees and others in a day-long conference to learn about critical water management issues in our region and what you can do or do better to deal with these issues in a positive way. Networking opportunities will abound, and posters will be displayed throughout the day.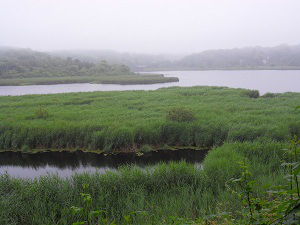 Our partner in the conference, Plimoth Plantation, is providing the gorgeously situated Peabody Pavilion, overlooking the Eel River and Plymouth Bay. A luncheon will be served to all participants.
Sessions will be short with succinct speakers providing different perspectives, critical information, useful resources, best management practices and success stories. The morning is devoted to issues pertaining to nonprofit organizations engaged in water issues or other environmental concerns. The sessions will be: Fundraising, Scientific Monitoring and Data Collection and Outreach. The afternoon will focus on the big picture of water in our region: Stormwater, Drinking Water, Recreational Waters and Wastewater. Speakers include experts from many towns, organizations and government agencies.
Stay after the conference and enjoy Plimoth Plantation's herring festival, which will start the evening of April 24the with a showing of the film "DamNation," which explores the cost to our environment of dam building and the benefits of removing them. On Saturday, special events will take place on Town Brook in Plymouth to celebrate the annual return of the river herring, a symbol of clean and free-flowing water and the focus of conservation and retoration work of many watershed organizations.
Please conserve water. This is the Weir River On Lawns
Photo taken 9.22.14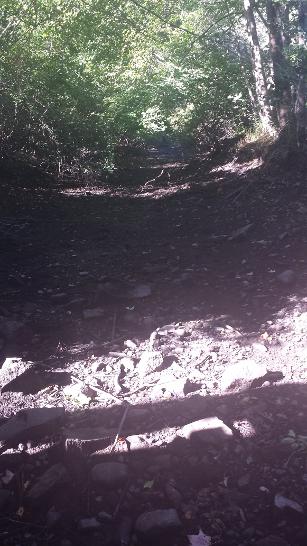 We created this website to raise awareness about our shared river - the Weir River and its watershed. The environmental challenges it faces and what we can do to become better stewards of it.
Email:wrwa@weirriver.org
Join our email list and keep up with events and news!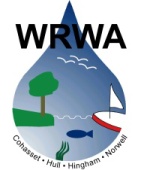 The Weir River Watershed Association (WRWA) is a 501(3)c nonprofit group committed to promoting awareness and stewardship of the Weir River Watershed. We are a membership organization. Our goals are to:


Gather data on the Watershed's condition using monitoring programs.
Design and carry out local projects to maintain and improve the water quality, beauty, and enjoyment of the Weir River Watershed.
Report findings on the condition of the Weir River Watershed to the public, governmental committees, and other agencies.
Build a partnership of schools, community groups, businesses, and all levels of government entities who are committed to maintaining the Weir River Watershed as a necessary and beautiful resource.